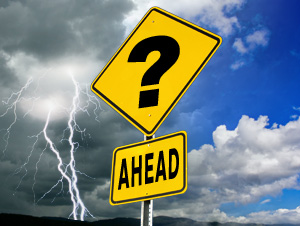 Billions in Bailout
So the US Government is talking about a $700 billion (with-a-B) taxpayer-funded bailout to end the ongoing mortgage company problems and stem the gushing flow of money flowing from the US economy. This would push the US National debt to its highest level since the second World War. The US debt would amount to 70% of the country's gross domestic product! But what will this short-term solution do to the economy in the future? Are we looking ahead to blue skies and rainbows or massing thunderheads and destruction?
Startling Observations
As of September 2008, the total U.S. federal debt was approximately $9.7 trillion. [source: Wikipedia] Each citizen's share of this debt is $32,336.00. The National Debt has continued to increase an average of $2.32 billion per day since September 28, 2007. [source: US National Debt Clock]
Forget "original sin," we're talking "original debt." A child born in the USA today will have a $37,000 debt before they even finish taking their first breath! What happens after an additional $700 billion is spent to bail out Wall Street?
The government reaching the requested debt limit would entail every man, woman and child in the U.S. owing more than $37,000 each. The median U.S. income last year was $50,233. [source: The Toronto Star]
The Government Accountability Office (GAO), Office of Management and Budget (OMB) and the U.S. Treasury Department have warned that debt levels will increase dramatically relative to historical levels, due primarily to mandatory expenditures for programs such as Medicare, Medicaid, Social Security and interest. Mandatory expenditures are projected to exceed federal tax revenues sometime between 2030 and 2040 if reforms are not undertaken. Further, benefits under entitlement programs will exceed government income by over $40 trillion over the next 75 years. The severity of the measures necessary to address this challenge increases the longer such changes are delayed. These organizations have stated that the government's current fiscal path is "unsustainable." [source: Wikipedia]
This means that if the United States of America does not stop spending more money than it generates that it will self-destruct, and soon. And we're not talking about 2030, we're talking closer to 2015. You cannot keep printing more money to cover today's debts, just look at the current crisis in Zimbabwe where they are facing an inflation rate of 11.2 million percent. If you think gas is expensive now, just wait…
Once upon a time you had to have a dollar's worth of gold to guarantee your printed dollar, now all you need to do is print up as much money as you need. What is a dollar worth these days? What happens when countries all over the world bring in their bits of paper and start demanding payment for the "promissory notes" that you've printed up?
Where Does the Money Go?
The President's budget for 2008 totals $2.9 trillion. Just a few examples; they're spending $608 billion on Social Security, $386 billion on Medicare, $481 billion on National Defense, $145 billion on the "War on Terror" (which might as well be under DoD), $34 billion on Department of Homeland Security (again, DoD), $56 billion on Education (which is just over one third of what they're spending on this "War on Terror"), and only $20 billion on Agriculture. [source: Wikipedia]
So we're looking at something like $660 billion on "Defense and Security" or nearly one-quarter of the budget.
Bailing out Wall Street
So now the whole world is waiting for the big bailout of Wall Street. Why should we in Canada care if the US goes under? Well, unfortunately a lot of our economy is tied to America's. Every time the US Stock Exchange takes a dive, the Canadian stock market (and the UK markets, and the EU markets, and the Asian markets) get sucked down with them. This sort of thing needs to stop. In my opinion, Canada needs to start thinking about Canada and stop sniffing after the US markets. How about us up here in Canada start dictating terms to the USA in regards to imports and exports instead of the other way around? NAFTA did nothing good for us here in Canada despite what the "experts" say. Talk to the man in the factory and ask him what NAFTA did for us.
Everyone is waiting to hear what is going to happen in Congress. The fear-mongering continues. Bush is flapping his lips about "shoring up the economy." I mean, who started this slide into oblivion in the first place, Georgie? It was you and your little "War on Terror," wasn't it? You were so busy screwing around in someone else's country that you let yours go to hell. Nice job.
It should be "interesting times" for the next few days, that's for sure.
(Some images from the stock.xchng, manipulated by Herne.)