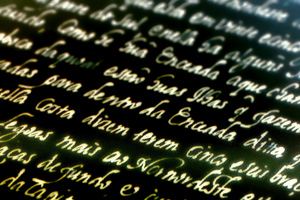 eReaders in the News
There has been a lot of interest lately in eReaders and electronic books and with the expected release Amazon's new "Kindle v2." So I thought, as an avid reader and self-confessed bibliophile, that I would offer my opinions to the world on why the current crop of eReaders will not work. The primary problems right now include the price of the reader unit and the lack of a cross-platform format, but the problems don't stop there. Publishers also need to rethink the way they market books.
eReader Contenders
There are a few different eReader units in the market today, but the top contenders are obviously the Amazon Kindle, the Sony eReader, and to a lesser extent the Hanlin eReader V3 (which was sold under various names depending on what country you were in). A quick look at Wikipedia will also give you the names of other eReader devices—The Digital Reader 1000 and The Iliad by iRex Technology, the Cybook Gen3 by Bookeen, as well as some other lesser-known devices. All of these devices use the same sort of display technology called electronic paper which was designed to mimic the appearance of conventional paper and claims to be less fatiguing for the reader's eyes.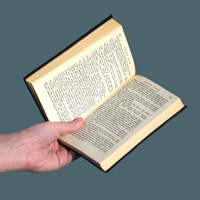 Design Weaknesses
I believe that the manufacturers of eReading devices need to stop, step back and look at the design of their device before they get too excited about electronic books. For starters, let's look at how people hold a book—Most readers will hold a book in one hand, generally using their thumb on the spine of the book to hold it open and their fingers to support the book, they're not going to hold your 7″ by 5″ device in two hands as you see in so many advertisements, it's just too uncomfortable. So the design of your eReader needs to have two equally-weighted halves to it, possibly even two screens as people (in the Western world) naturally want to read from left to right. A two screen model could also have the advantage of allowing one screen to refresh while the user is reading the other screen, and having the ability of using one screen to perform other functions such as dictionary searches, bookmarking, indexing, etc while the other screen displays the current content the user is reading.
Another advantage to using two smaller screens instead of one large screen is the price of the screen itself. A larger surface area, especially if you're using touch screen technology is more expensive than say two smaller surfaces. And while we're talking sizes of screens, let's talk about the optimal size for an eReader—think paperback novel. Your average paperback novel is around 7 inches high by 4 inches wide, so if we made our eReader approximately 8 inches high by 5 inches wide and less than half an inch thick, we would probably be around the optimal size for most readers. Now think about this, you have two screens 8 inches by 5 inches, turn the reader 90 degrees and what do you get? You get a screen that has a form factor almost the same as a standard 8.5 x 11 sheet of paper. Now you could use your dual screens to display letter-sized PDF documents at 94% of their actual size. So I'm thinking 2 small screens that when sitting flat lock together to form one larger screen with a thin bezel between the halves.
Alternatively we could keep the single-screen tablet-type model. It would be cheaper than a double-screen, and you would want to keep that golden 5″ by 8″ screen size. But we also need to keep in mind how we want to hold this device. It should be the same thickness throughout, not thicker on one side as the Kindle is. If anything, it should be thinner near the bottom edge and thicker near the top edge so that when it's sitting flat on a tabletop it angles slightly toward the viewer. Also there should be a bit of a groove down the left and right sides along the back so that when the user is gripping it the fingertips have some place to grab on to.
Also, what is it with the klutzy chicklet keyboard on the Kindle? We have cheap touch screen technology these days, why do we want an ugly push-button keyboard cluttering up our eReader? Let's take a page out of the book of Apple and get ourselves an on-screen keyboard in this thing. And while I'm on the topic of the Amazon Kindle, let's lose the proprietary "Whispernet" connectivity that only works in the USA, there's a whole planet outside the borders of the USA people! This wireless connectivity is just adding a huge unwanted cost to the base units. Nor do these units need to have the ability to play MP3s. Sure, it's a nice bonus to be able to listen to music while you're reading but all you're doing is sucking power from the battery when you could be using a smaller battery and lowering the cost again. We have MP3 players, we don't need them in our eReaders.
What are you selling anyway? You're selling an electronic book reading device. You're not selling a portable web-browsing device, we already have those and they do a much better job of it. If you want to actually get your eReader device to the masses, you need to drop the price way down and lose all of these restrictive and useless "features" that you think you're adding. This device needs to cost somewhere between $100 and $150. Personally, I would not pay what Amazon is asking for the Kindle—$359 for an eReading device is far too high, even if it did work in Canada, which is does not. The Sony eReader device is a bit cheaper at $250 for the lower end model, $400 for the higher end model. And the iRex iLiad runs as high as $600.
Media and Accessibility
Now let's talk file types; We need an ebook format that will work across all types of readers and on computer screens. Nevermind your DRM crap, we already know that the DRM model does not work. Why must you keep beating a dead horse? These readers should also support, but not be limited to supporing; Plain text files, rich text files, Excel files, Word files, PDF files, ePub files, HTML, XML, JPEG, (static) GIFs, BMP and PNGs. In short, I should be able to plug an SD card into this device and read any sort of document that I want to. Of course this device will have an SD card port, and a mini USB port so that you can sync up your eReader to your computer. Your computer is the device you should be using to download new media, not your eReader.
I also need to make a comment about the media, or the actual eBooks themselves that publishers who want to sell books to the public should know—I will not purchase ephemeral products. In other words, you will not be able to sell me MP3s, downloaded software, or downloaded eBooks. I will not pay $10 for a book that does not exist outside of the ether. When I spend $10, I want a physical object in my hand that I can read, save, put on a shelf or pass on to someone else to read. I am not going to spend my hard-earned money on data that is here today and might be gone somewhere else tomorrow. If you want to sell me an eBook then you need to take that data and put it on to something that I can physically possess. You can't take a packet of data and put it up on a shelf to save for a future generation, nor does data appreciate in value as time goes on. I am a bibliophile, I have shelves full of books that I can touch and appreciate at any time that I want to, I don't have to rely on an over-priced electronic device in order to access the words they contain. I can take one of those books off my shelf and pass it on to a friend any time I want to without having to worry about some stupid publisher's DRM system getting in my face.
Want to Sell More Books?
Here's what to do; publish your book as a trade paperback, then take the text of that book and put it on an SD card or a mini CD and then include that card or CD in the back of your trade paperback so that people with electronic reading devices can read your book on their eReader. Want to sell your books at the airport? No problem, sell the customer a pre-loaded SD card the same way you sell audio books on CD. Then they can pop that SD card into their eReader and read your book anywhere they are.
Make your book accessible to the devices that people want to use to read them and lose this proprietary data nonsense. Get your books out there to the public by offering free preview chapters in eBook or PDF format and the readers will come. Get your books out there by offering free audio podcasts. You'll sell a heck of a lot more books if you make your media accessible to the masses in more appetizing forms. Stop telling people how you want them to consume your product and listen to how they want to consume it.
Want to Sell eReaders?
Lose the stuff that doesn't need to be there. You're selling an electonic book reader, you're not selling an iPod Touch. Electronic paper does not have the refresh rate or colour depth to make it an effective wireless media device. It was designed to display static type, use it for that.
I am not going to spend $400 on a device that is "something" like an iPod touch when I already have a much superior device in the market, nor am I going to spend that sort of money on a device that can connect to the Internet when I can buy myself a Netbook for the same price and have 20 times the functionality that the eReader has.
So if you want to sell more eReaders, stop trying to make a device that does everything and just make a simple electronic book that works!
Images from the stock.xchng