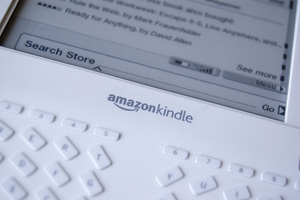 Same Product, Different Face
Amazon releases the Kindle Version 2 today, ho hum. This is a perfect example of a product designed by a Marketer who has no idea of what the public wants, but they know exactly what they want to sell. Doesn't matter what the consumer wants, just look at the benefits of locking the consumer into your store with a device that reads only your DRMed media content. What else could a marketing exec ask for? The Kindle version 2.0 offers nothing new worth having.
The Kindle's New "Features"
New specs include; A thinner unit, 10.2 ounces (instead of the old 10.3 oz, wow!), a screen with 16 shades of grey (instead of the old 4) at a resolution of 600 x 800 at 167 ppi (pixels per inch), 25% longer battery life, more storage space, a 20% faster page refresh, and a text-to-speech option using a computerized voice. Formats supported; Kindle (AZW), TXT, MP3, unprotected MOBI, PRC natively; PDF, HTML, DOC, JPEG, GIF, PNG, BMP through conversion.
What's Missing?
What it still has that it doesn't need; A butt-ugly chicklet keyboard, Sprint 3G "Whispernet" access which bloats the price, text-to-speech (do we REALLY need this?), a proprietary DRMed format (AZW) so that you cannot trade your ephemeral products with your friends or read them on other devices.
What it still doesn't have; A reasonable price, an SD card slot (why would you remove the most useful feature?), a touch screen, a use outside the US of A, support for Word and Excel files, and a colour other than white.
One of the new features includes something called "Whispersync," which allows you to switch between devices while you're reading a book and pick up where you left off. This implies that you were stupid enough to buy multiple units. "No computer needed," so why do you need to charge it via a USB cable? Seems counterintuitive, doesn't it? Also, I thought one of Amazon's selling points was the fact that your library is all online, so why do I need more storage if everything is online?
Target Demographic
The Kindle continues to be targeted at business-type people who think it might be a "good idea" to be able to read their Financial Times or a book while traveling, but they are much too sophisticated to be seen carrying a newspaper or a book, the techno-geek who wants all the newest gadgets no matter the price, and the blogging media. People who actually want to read books wouldn't want this product, at least not at this price. Sadly, people will still buy this product and wave the Amazon flag while yelling, "Hey! Look at me! I'm a geek on the cutting edge!" Sad really.
—–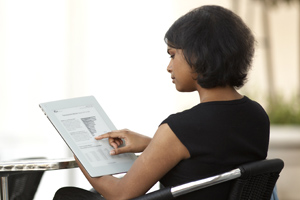 The Other Side of the Coin
On the other side we have a company called Plastic Logic that actually appears to understand what people want in an eReader. Here's a product that's due out in 2010 with an 8.5 by 11 inch form-factor aimed squarely at the business consumer. We can only hope that Plastic Logic will look at the mistakes that Amazon is making now and not follow them in the future. One can only hope that they will take this same technology and apply it to a smaller, paperback-sized device aimed at bibliophiles like me.
What's Offered?
For specifics on the device, you should go to the Plastic Logic's website and have a read.
The short list is as follows:
Less than 7mm (about 1/4 inch) thick
Weight less than 16 oz
form factor, as mentioned, is 8.5″ x 11" (or a full letter-sized page)
battery life measured in days not hours
support for a wide range of document types including PDF, Microsoft Word, Excel & PowerPoint, and others
E Ink Active Matrix Display
A touchscreen interface
Tools for acquiring, organizing and managing information
Wireless and wired access to content
It also states that the device uses a "version of Win CE from Microsoft, but the features of the operating system are not directly visible to the user" and it "will support digital rights managed content," which should keep the marketing grubs happy. One can only assume that DRMed content will be only one of the many formats offered and that it will support a wide variety of other non-DRM content. Since the unit will support native PDFs, there will be all sorts of copyright free content available from Google books. There will also be supporting software that runs on Windows and the Mac, which makes one assume that it will be easier to download and organize content. There is no specific mention of support for an SD card, but the hi res image of the device offered on the website implies that there is a port for them. As well, they hint at a colour screen for future devices.
Also there is no mention of an estimated street price for this unit (to be announced in 2010), but one hopes that Plastic Logic is keeping their eye on what Amazon is doing and realizes that the average book reader will not pay that sort of money for the technology when they can get something ultimately more useful, like a Netbook, for the same price. If they found themselves in the $100-$150 range for a trade paperback-sized (5″ by 7″) version and around $200-$250 for a full letter-sized version, I think they'd be in the ballpark.
So here's a vastly superior device with a touch screen giving you the ability to do markup right on top of your document and use gestures to flip pages and type on an actual on-screen keyboard! I have high hopes for this product, hopefully Plastic Logic does not disappoint.
YouTube Video
Here's a short product demo video from Plastic Logic.

Image credits; Amazon Kindle from John Pastor on Flickr. Plastic Logic eReader from the Plastic Logic website.