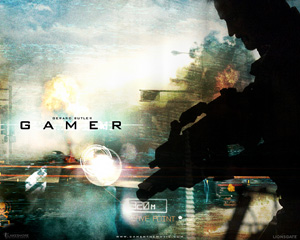 Maple Pictures ©2009
Rated: R [blood, violence, brief nudity, sexual situations]
Starring: Gerard Butler, John Legaizamo, Michael C. Hall
Imagine that Second Life was real. Anyone with enough money could pay to control the actions of another human being, or you could choose to earn money by allowing another person to control you. Nano technology is injected into your brain, replacing your brain cells with nanotech cells. Your player has complete control and you are merely their Avatar in a game called "Society." Anything and everything is legal because both player and avatar have signed away their rights (The ultimate EULA?) in order to play the game. The world quickly breaks down into the rich paying to play the game and the poor, the homeless, the drug addicts, and the dregs of society working as Avatars to scratch out a living.
Now take that game to the next level, think Quake, except now the people and the ammo are real. A reclusive billionaire, Ken Castle (Michael C. Hall), has created a massive first-person shooter game called "Slayers." The Avatars are now death row inmates who sign away their lives in exchange for the chance to win their freedom. The payoff: If your player wins 30 matches then you're free to return to society.
Many Avatars end up as red-shirted cannon fodder, essentially uncontrolled zombies in the game only to provide scenery, while others like Kable (Gerard Butler), are controlled by highly skilled gamers who are trying to reach the goal to win. Simon, a wealthy teenager and Kable's player, has achieved rock star status and fame by winning an unheard of 26 matches playing Kable. But Ken Castle doesn't want Kable to win. Castle has a sinister plan for his human-controlling nanotechnology (Don't they always?) and Kable could ruin all those plans.
So now Simon and Kable must band together with a hacker group called Humanz to win the game, destroy the nanotech, and save the world from the evil billionaire!
* * * * *
Overall I think the concept behind the picture was solid—games like Second Life or The Sims have been big in the media and that helps place this movie in the public eye. I like the idea behind controlling people as avatars as the next big thing in entertainment. Personally, I would have liked to see more "in-game" strategy and interaction rather than so much blood, gore, and head explosions. They were a bit over the top. The acting was average, nobody really excels or stands out. It's a decent shoot 'em up film, many reviewers are calling it a "B Movie."
I'm going to rate this movie; 

(3.5 out of 5)
Another movie to keep your eye out for is Surrogates with Bruce Willis as "Agent Greer," which hits on the same concept of people controlling Avatars in RL, except in this movie the Avatars are robots.
You can also go to the GAMER website, but it's a bit clunky in execution.